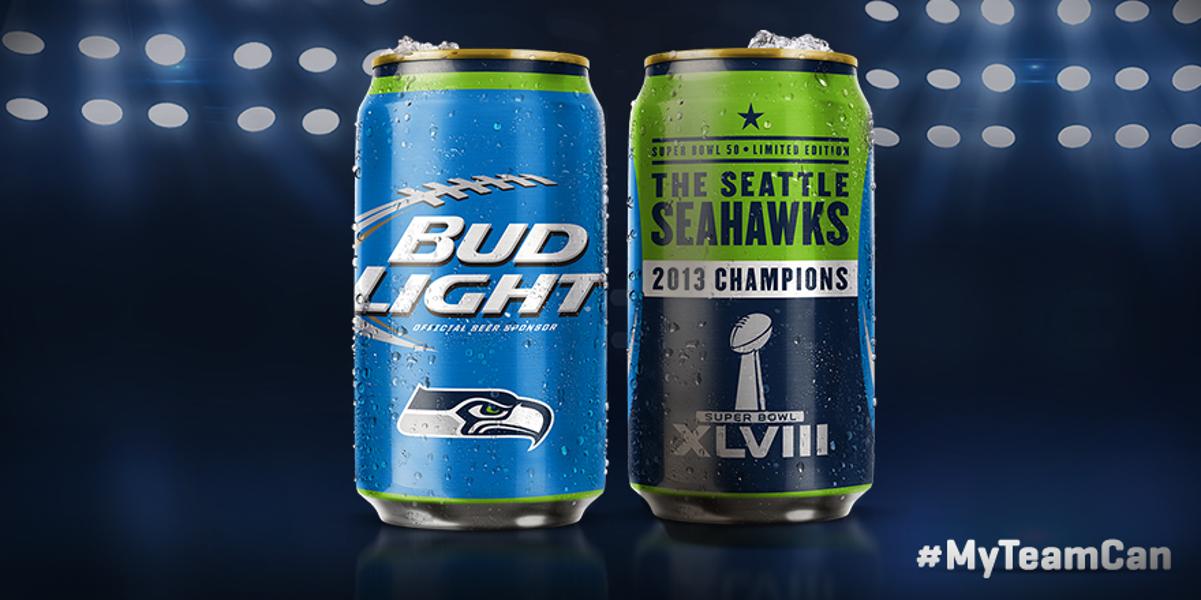 Wow — Super Bowl 50 is only four weeks away,
and I'm frankly a little underwhelmed by the tepid promotion it's been getting so far.  I'm not being sarcastic;  I really thought there'd be a more feverish marketing campaign underway by now.  I especially anticipated a bigger push on CBS, who have reminded us during every single game that they are "The Home Of Super Bowl 50."
---
What — does CBS think people will just automatically stay home that night and watch the game?  Oh, that's right.  People will.
---
Granted, CBS has been ramping up their announcements reminding us of the date, but there's not been the sort of media frenzy I anticipated about this being some sort of an extra special event by virtue of being the 50th.  Okay, in some of the CBS spots, the Voice-of-God announcer describes the upcoming game as "the most historic broadcast of all time."  Seriously?  Hello — moon landing?
Let's be rational.  Super Bowl 50 is no more historic than 49 was, or that 51 will be.  (Whoops.  Make that  XLIX or LI.)  50 is just a nice round number, half of 100, but contains no historic significance.
---
Super Fan:  "I'm an early adopter.  How can I beat the crowd and get my hands on some Super Bowl swag?  I'm sure those Adrian Peterson Child Rearin' Back Scratchers will be flying off the shelves."
I've searched and searched and there's just not a ton of Super Bowl 50 stuff available to purchase yet.   Makes sense, though.  The playoffs have just begun and they can't really start cranking out merchandise for the Feb 7 game until they know who's playing.  I'm confident that once the teams have been decided, the manufacturers of sports-related apparel, souvenirs, and other gimcrack will kick into high gear to provide us with "once in a lifetime"  opportunities to own that crap ourselves.
Good news — you can get your hands on some generic Super Bowl 50 items already (I won't promote those companies by including links, but just Google "Super Bowl 5o merchandise" and you'll see a modest array of goodies if you just can't wait any longer.  Some of those items are pictured on this page.
We know that the NFL jealously guards its trademarks, and some pirate apparel company wouldn't likely get away with producing knock-off items.  Then again, Super Bowl 50 is a one-off, so I wouldn't be surprised if there a lots of unscrupulous vendors getting ready to print up a bunch of clothing, swoop in, unload the merch, and get outta town.  We shall see.  And do you remember how the NFL always used to use Roman numerals for the Super Bowl?  Last summer they changed their mind and went with plain ol' 50 this year.  Even so, I bet some manufacturers jumped the gun months ago and started production of clothing and other souvenirs.  There may be warehouses full of T-shirts and jerseys already printed with Super Bowl L on the front, just waiting to put the names of the teams on the back.  Whoops.
---
High School Honor Roll — feel-good stories on CBS are coincidentally great marketing for the NFL.
CBS News has been quietly promoting the Super Bowl 50 throughout the fall with its "High School Honor Roll series."  CBS joined with NFL Films to produce a series of stories about Super Bowl athletes returning to their own high schools to present a "Golden Football" that can go in the trophy cabinet.   Each segment features a player or two returning home, visiting with former coaches and current players, and culminates with the presentation of the frankly chintzy looking, apparently spray-painted football with the player's and the school's name stamped on it.  Here's a sample featuring the Manning brothers.   Peyton and little bro Eli attended the same New Orleans high school. That school got two golden footballs, the lucky bastards.  Maybe they can box up some debate trophies to make room for the balls.
I usually saw these segments during my favorite show CBS This Morning.  It took me a while to figure out the pattern, though — these heart-warming, inspirational stories meant to inspire youngsters to work hard to achieve their dreams were always broadcast on Thursday mornings so they would tie in with that evening's Thursday Night Football telecast on –you guessed it — CBS.  Very clever way to make a plug for an upcoming broadcast look like a feature news story, CBS.  I still love you.
---
Super Bowl 50 special hardcover books hot off the press — coming soon to a Half Price Bookstore near you.
I've gotten my hands on two books that have been published to commemorate Super Bowl 50.  Unbelievably, neither has become a best-seller (okay, that was sarcasm).  I was able to get both from the Hennepin County Library (you didn't think I'd pay for them, did you?)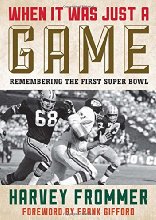 One is When It Was Just A Game:  Remembering The First Super Bowl by Harvey Frommer.  I actually read it — quite interesting.  Its foreward is by Frank Gifford, recently deceased NBC sports commentator, former NFL player, and husband of Kathie Lee.  It's a straightforward book tracing the development of the Super Bowl with lots of details about the personalities involved in that first game (which, by the way, was not called the Super Bowl).   In addition to the author's own historical narrative, the book is loaded with quotes from people who were involved with that game, including surviving players, relatives of the coaches, media people, and more.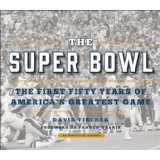 Another is The Super Bowl:  The First Fifty Years Of America's Greatest Game by David Fischer.  I have that book right now.  It's a chronological description of each and every game since 1967.  This book focuses on the athletes, the coaches, the plays, and the records without much backstory about the politics of the game or the ever-increasing importance of the network coverage.
There are other new books available on Amazon.  Check them out there, or wait until they're stacked up on the remainders table at Barnes and Noble.
---
Casual Fan:  "I just watch the Super Bowl for the ads, even though I'll be able to see them all on Youtube whenever I want."
For many folks, the ads that will be shown during the game are of much greater interest than the game itself.  Here's a somewhat recent list of the companies buying time for the Feb 7 broadcast.  According to Advertising Age magazine, most of the ads for the game have already been sold (to the tune of $5 million per 30 second spot).  If last year was any indication, I bet that in the weeks to come we'll see lots of coverage of the ads that will be shown.
---
Beer doesn't get better by aging it in your Man-cave.
One promotional item that is currently available are the souvenir Super Bowl 50 edition Bud Light cans (and remember, Bud Light is the official beer of Super Bowl 50, so they can get away with doing that).  I am confident that these will sell nicely and that many folks will purchase them, keep them sealed, and hope that they'll turn a profit on Ebay down the road.  I'm not judging — at this very moment I am in possession of two unopened six-packs of Sturgis Motorcycle Rally beer from the 50th Anniversary rally — in 1990.  They're the real deal — Harley Davidson licensed and everything, and they're in mint condition.  Who needs the Powerball lottery when I can make investments like that?
---
You have only one week left to shop and make your anniversary celebration plans.
Another big date is coming up:  January 17, 2016, is the 49th Anniversary of the first Super Bowl.  Have you decided what you're going to wear?  But wait — isn't this the 50th anniversary?  No.  February 7, 2016 is, in fact Super Bowl 50.  But an anniversary indicates that a year has gone by since an event happened.  Most of the marketing folks are getting this right, but now and then you'll hear some errant commentator or athlete prattle on about this year being the 50th anniversary of the Super Bowl, which it ain't.  That's next year.
---
I left my heart in Levi's® Stadium.
Needless to say, they're going crazy in San Francisco getting ready for the game, the onslaught of the crowds and the media, and all the special events they're producing.   But that's a whole 'nother thing.  For CBS, televising the Super Bowl isn't much more remarkable than any other NFL broadcast (as long as the power doesn't go out).  Sure, there's the half-time show to showcase instead of the loud men in suits blathering about the game.  When this circus comes to your home town it really is a big deal and cities compete fiercely for the opportunity.  I've been following the plans of the San Francisco Host Committee and am frankly very impressed.  It's so much more than just the game;  it's a multi-day event with all kinds of special activities all over the Bay Area.  My home town of Minneapolis won the bid for 2018 (Super Bowl LII) and the planning committee is already hard at work making plans.  While the TV broadcast, to me, is NBD, I'm really looking forward to the big game coming to our splendiferous US Bank Stadium®, currently under construction.
---
---
I'm still pretty confident that CBS will turn up the heat for this game.  They've lined up a nearly full slate of advertisers already, and they better deliver the viewers.  Surely they have some tricks up their sleeve for the final drive.
David Berson, President CBS Sports:  "There's no bigger event than the Super Bowl.  It's the biggest there is.  Now this will be the biggest of the Super Bowls.  It's going to be the biggest event of all time."
Ourand, John.  "Sports Media."  Street & Smith's SportsBusiness Journal.  Sep 21-27 2015.   Pg 12
Oh, please.
---