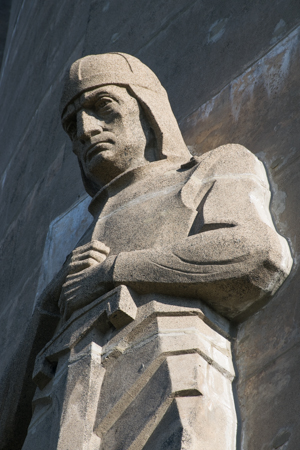 Game Date: Sun Jan 3, 2016
Teams: San Diego Chargers @ Denver Broncos
Network: CBS
You're reading the last of several regular season Game Reports in which I've documented my growth as a novice NFL TV fan.  You can check here if you'd like to
learn more about my plans.
  More game reports may be coming as the conference playoffs begin, so check back.
---
Pregame Thoughts
This is noteworthy as the last game of the regular season that I'll document here.  The Vikings, the team from my home state, are playing Green Bay later tonight and I'll probably have it on.
Overall Response
First I need to congratulate myself for accomplishing my goal of watching at least one NFL game every week of the season, and this was a pretty satisfying one with which to end.  Broncos Thomas makes a 72 yard touchdown during the first 30 seconds of play.  Not bad, Broncos.  But San Diego turned it around pretty fast, and several turnovers worked against Denver.   Fortunately, Broncos went on to win the game, but only after halftime and the return to the field of Peyton Manning.  His last game was mid-November.  It was a dramatic and frankly thrilling change in momentum on the field.  I was impressed with Manning's performance on the field and especially with his gracious remarks when he was interviewed afterward on the sideline;  he was very humble and acknowledged that Osweiler had some really tough breaks in the first half.  Final score:  Broncos 27, Chargers 20.
Three of my teams advance to the playoffs (Seattle, New England, and Broncos).  I'll probably watch and report on those games as well, so check back if you're interested.  My second team to love was New Orleans, and they're done.
TV Razzle Dazzle
Typical superb video coverage of action on the field along with all the commentary and whiz-bang graphics that make CBS Sports what it is.  They're starting to hype NFL Honors program scheduled for Sat Feb 6 (Super Bowl Eve).  Not sure just what that is or if I'll try to catch that or not.
Entertainment value
5/5.  Very engaging, right from the start.  My interest perked up when Malcolm Floyd (San Diego) was injured — I don't know much about him, but when they announced that he's retiring after this game I really hoped he'd be back — if not on the field, at least on the bench.  But it wasn't to be — a concussion took him out for the rest of the game.  Not the best way to start your retirement.  Also got more interested in 3rd quarter when it was apparent Manning would be coming back in — that Osweiler/Manning story has been interesting, but it would be cool to see the old timer win the game — especially when San Diego took the lead in their first drive of 3rd quarter.  And wouldn't ya know — he did.  It was a very exciting moment in Sports Authority Field when Manning ran out on the field.
Commercial commentary
Total 110, Testosterone Factor 4.76/7.00
Still some lingering holiday-themed ads, including Santa.
No fantasy football ads.
Increasing plugs for Super Bowl 50 and first mentions of the NFL Honors broadcast slated for Feb 6.  This will be the fifth year for this awards show which takes place on Super Bowl Eve.
One ad for tax preparation.  Seems a little early to me, but then I rarely file before April 15.
Interesting Extras
Looks like a beautiful, sunny afternoon in Denver.  Aerial shots showed some leftover snow on the shady side of the stadium.  Brief shot of someone skiing at Steamboat.  Stuckey San Diego, Bruton Denver are the candidates for NFL man of the year because of good deeds.  Some shots from the US Mint in Denver.
So much to learn
Oh man — now they're talking about seeding options depending on who wins and loses.  Yikes.  I'm not going to try to figure that out — it will be what it will be.  "Fourth turnover committed by Denver –" never noticed that expression;  doesn't the defense make the turnover?
Here's the commercial roster for the show.  I've sorted this one by category, but  you can also see which quarter the ads were telecast and in what order.  Remember, asterisks (*) mark commercials with a football theme (especially when the product advertised is NOT explicitly football-related).
---
| | | | | |
| --- | --- | --- | --- | --- |
| Quarter | Commercials:  San Diego @ Denver, Jan 3 2016, CBS.  Total: 110 | Category | Ad Number | Testosterone Factor (Avg 4.76/7.0) |
| 1 | Southwest | Airline | 2 | 4 |
| 1 | Southwest | Airline | 3 | 4 |
| 3 | Southwest | Airline | 69 | 4 |
| 4 | Acura | Auto | 94 | 6 |
| 4 | Acura | Auto | 97 | 6 |
| 4 | Acura | Auto | 102 | 6 |
| 4 | Acura | Auto | 108 | 5 |
| 3 | Carmax | Auto | 90 | 4 |
| 3 | Chrysler (Star Wars) | Auto | 77 | 5 |
| 3 | Dodge Ram | Auto | 84 | 7 |
| HT | Ford | Auto | 66 | 5 |
| 3 | Ford | Auto | 92 | 4 |
| 2 | Honda | Auto | 33 | 5 |
| 2 | Honda | Auto | 37 | 5 |
| HT | Jeep | Auto | 55 | 6 |
| 3 | Jeep | Auto | 73 | 7 |
| 3 | Jeep | Auto | 81 | 5 |
| 1 | Lexus | Auto | 28 | 5 |
| 1 | Lincoln | Auto | 15 | 2 |
| 1 | Mercedes | Auto | 5 | 7 |
| 1 | Mercedes | Auto | 7 | 4 |
| 3 | Bud Light | Beer | 72 | 5 |
| 1 | Bud Light Superbowl Series | Beer | 25 | 6 |
| 2 | Michelob Ultra | Beer | 50 | 4 |
| 4 | Skittles | Candy | 99 | 4 |
| 2 | Snickers | Candy | 32 | 4 |
| 2 | Samsung Galaxy | Cellphone | 38 | 3 |
| 1 | Microsoft Surface Pro | Computer | 27 | 4 |
| 2 | Microsoft Surface Pro | Computer | 48 | 5 |
| 3 | Quickbooks | Computer | 86 | 4 |
| 1 | Amazon Prime | Delivery | 21 | 4 |
| 2 | Football is Family | Football | 41 | 7 |
| HT | Football is Family Eric Dickerson | Football | 60 | 7 |
| 1 | Football is Family Play60 | Football | 16 | 4 |
| 4 | Football is Family Play60 | Football | 95 | 4 |
| HT | NFL Game Pass | Football | 62 | 7 |
| HT | NFL Monday QB | Football | 67 | 7 |
| 1 | NFL Network | Football | 12 | 7 |
| 3 | NFL Now | Football | 82 | 6 |
| 1 | Super Bowl 50 | Football | 6 | 7 |
| 3 | Super Bowl 50 | Football | 83 | 7 |
| 2 | Super Bowl Sunday NFL | Football | 40 | 7 |
| HT | Vikings Tickets | Football | 63 | 7 |
| HT | Cenex | Gas | 65 | 4 |
| HT | Menards (local) | Home Improvement | 56 | 5 |
| 1 | Courtyard by Marriott* | Hotel | 22 | 4 |
| 1 | Geico | Insurance | 1 | 4 |
| 1 | Geico | Insurance | 8 | 6 |
| 2 | Geico | Insurance | 35 | 5 |
| 4 | Geico* | Insurance | 107 | 7 |
| 1 | New York Life | Insurance | 11 | 2 |
| 4 | New York Life | Insurance | 98 | 4 |
| 1 | USAA | Insurance | 14 | 5 |
| 3 | Century Link | Internet | 91 | 3 |
| 2 | US Army | Military | 42 | 6 |
| 3 | The Revenant | Movie | 74 | 7 |
| HT | Mill's Fleet Farm | Outdoor Gear | 64 | 7 |
| 4 | Lyrica | Pharmaceuticals | 93 | 6 |
| 1 | Otezla | Pharmaceuticals | 19 | 4 |
| 3 | Tamiflu | Pharmaceuticals | 70 | 2 |
| 2 | Chili's | Restaurants | 31 | 4 |
| 2 | Dominos | Restaurants | 47 | 4 |
| 1 | McDonald's | Restaurants | 26 | 4 |
| 3 | McDonald's | Restaurants | 85 | 3 |
| 1 | Pizza Hut | Restaurants | 9 | 5 |
| 3 | Pizza Hut | Restaurants | 76 | 4 |
| 1 | Sonic | Restaurants | 23 | 6 |
| 4 | Subway | Restaurants | 106 | 5 |
| 4 | Direct TV | Satellite TV | 96 | 6 |
| HT | Sports App on X1 Infinity | Streaming | 54 | 6 |
| 3 | Intuit Turbotax | Tax Preparation | 75 | 7 |
| 4 | 60 Minutes | TV Show | 109 | 4 |
| 1 | Angel From Hell | TV Show | 17 | 4 |
| HT | Angel From Hell | TV Show | 58 | 4 |
| 3 | Big Bang Theory | TV Show | 71 | 5 |
| 3 | Blue Bloods | TV Show | 89 | 5 |
| 2 | CBS Television | TV Show | 51 | 4 |
| 2 | Elementary | TV Show | 34 | 4 |
| HT | Late Show | TV Show | 53 | 4 |
| 3 | Late Show | TV Show | 88 | 4 |
| 4 | Late Show | TV Show | 104 | 4 |
| 2 | Life In Pieces | TV Show | 39 | 4 |
| 2 | Limitless | TV Show | 44 | 5 |
| 2 | Mike and Molly | TV Show | 45 | 2 |
| 3 | Mike and Molly | TV Show | 79 | 2 |
| 1 | Mom | TV Show | 13 | 3 |
| 4 | Mom | TV Show | 110 | 2 |
| 2 | NCAA Basketball | TV Show | 46 | 5 |
| 2 | NCIS:  Los Angeles | TV Show | 29 | 6 |
| 4 | NCIS: New Orleans | TV Show | 105 | 6 |
| 3 | People's Choice Awards | TV Show | 87 | 3 |
| 4 | Scorpion | TV Show | 101 | 5 |
| 1 | Supergirl | TV Show | 20 | 4 |
| HT | Two Broke Girls | TV Show | 52 | 2 |
| 3 | Two Broke Girls | TV Show | 78 | 2 |
| HT | Undercover Boss | TV Show | 61 | 6 |
| HT | WCCO (Local) | TV Show | 57 | 4 |
| HT | Witness Greatness | TV Show | 59 | 4 |
| HT | Fruit of the Loom | Underwear | 68 | 5 |
| 2 | Fallout 4 | Video Game | 43 | 7 |
| 1 | AT&T | Wireless | 18 | 4 |
| 4 | AT&T | Wireless | 103 | 4 |
| 1 | Sprint | Wireless | 24 | 5 |
| 1 | Straight Talk | Wireless | 10 | 7 |
| 2 | T-Mobile | Wireless | 36 | 4 |
| 3 | T-Mobile | Wireless | 80 | 4 |
| 1 | Verizon | Wireless | 4 | 4 |
| 2 | Verizon | Wireless | 30 | 4 |
| 2 | Verizon | Wireless | 49 | 4 |
| 4 | Verizon | Wireless | 100 | 4 |