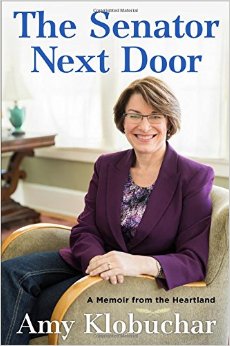 I haven't followed Klobuchar's career all that closely but I've always had a positive impression of her both as a candidate and as the senior Senator from Minnesota.  I enjoyed and would recommend this autobiography.  She hasn't written this "with" anyone, and her style is conversational and down-to-earth.  It's loaded with anecdotes from her childhood in the Twin Cities suburb through the current time where she is well into her second term  in the US Senate.  Key parts of her personal and professional life include her education at Yale and the University if Chicago Law School, her work as an attorney in Minneapolis, her first elected position as Hennepin County Attorney, and her election to the US Senate.  She shares recollections of some struggles, and while this book isn't a tell-all, she is candid about some of the personal challenges she has faced, especially with her newspaperman-father's alcoholism.  Especially touching is her recounting of the birth of her daughter Abigail and the child's subsequent illness.
Often a book by a politician is a precursor to a campaign for a newer, higher position.  I don't know if that's the case for Amy Klobuchar or not — but if she's going for another term in the Senate, this book certainly hits the right notes.  She's not afraid to itemize what she feels are her accomplishments over her career, but she is also unfailingly gracious and complimentary toward all those colleagues and supporters who have helped her along the way.
Minnesotans will especially enjoy this memoir because of the local color and familiar cast of characters.  In addition to learning more about Klobuchar, you'll get a new perspective on Walter Mondale, Paul Wellstone, Al Franken — even Kirby Puckett.  You'll recognize locations like the State Fair and even the International Eelpout Fextival on Leech Lake, where Klobuchar says she made the decision to run for the Senate while chatting with a friend in his icefishing house.
Don't look to this book for lofty essays on political philosophy and the issues of the day.  She keeps things pretty simple — like this recap of the passing of Obamacare that can only be considered luke-warm praise:
Debating and finally passing the Affordable Care Act was another success.  The final bill was far from perfect, but I believe that the bulk of the ACA's policies are sound and that history will judge the legislation more kindly than it is being judged today.
She comments on the expanding role of women in high government positions and celebrates those achievements and accomplishments.
Although women in politics have made great strides, I feel strongly that we must never rest on our laurels.  We need a forward-looking strategy to add to our numbers.  First up, we must make sure women are in positions that involve actual decision-making authority.  That alone inspires other young women to achieve the same goals.  Our country has always thrived on a competitive spirit — in both business and government — so shutting out half the population from governing and competing at the top levels is simply not a good idea.
She stresses that she did not campaign as "the woman candidate," and is generally positive about her own experience is the august institution:
I've heard people tell stories about blatant sexual harassment in the Senate in decades past, and I believe them.  But in my view that era is fading with every passing year.  I just don't see that when I go to work.  But as a woman in the Senate, it still has not reached the point where I don't feel like a minority.  With women comprising only 20 percent of the Senate, we still are very much in the minority, a situation that holds true — only to differing degrees — for female state legislators and local officials around the country.  And there are still times in politics when I ask myself:  "Would that have happened to me is I was a man?"
Klobuchar is much less encouraged by the divisiveness in Washington, the polarization and lack of civility.  But she's not hopeless about it:
Over the past few years, I've seen far too many people in politics play on the extremes to get attention, raise money, and expand their power base. I've had a front row seat to the flame throwing and the saber rattling, the shutdowns and the slowdowns. Yet instead of viewing every tumultuous event in our nation's capital as an end, I've decided to see each one as a beginning.
She goes on to build the case for statesmanship and compromise.  It makes the reader proud to know she's using the desk that was formerly occuped by Hubert Humphrey (and she writes an amusing tale of how that came to be).  While her prose is a little reminscent of Pollyanna, her narrative is that of a fairly ordinary  but capable young woman who has risen to great heights thanks to her smarts and her hard work.  I've never had the sense that Amy Klobuchar has ever had a Trump-like hunger for political office, and I'm inclined to believe that her thoughts about serving the public good are for real.  Anyone thinking about a career in politics could learn a great deal about building relationships and a track record of achievement — and then be in the right place when an open Senate seat becomes available.
---
Klobuchar, Amy.  The Senator Next Door:  A Memoir From The Heartland.  Henry Holt and Company.  New York.  Copyright 2015.355 pages.
---