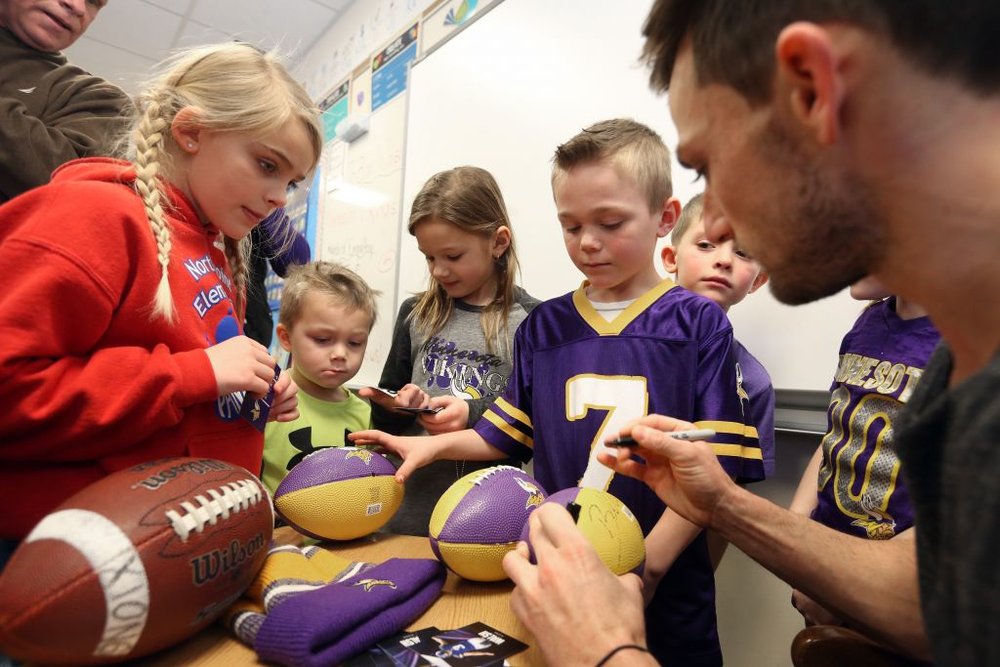 A bunch of first graders at Northpoint Elementary school write and illustrate encouraging messages for Vikings kicker Blair Walsh in order to cheer him after botching that now infamous field goal kick in the playoff game against Seattle.
 Oh fer cute.
This teachable moment in an elementary school classroom caught the attention of Twin Cities media.  And then a couple days later Blair Walsh, in the flesh, visits the first graders himself and hangs out at their school for most of the morning.
Well let me tell you, the media couldn't get enough of it, and not just the locals.  On Thursday it was briefly mentioned on my favorite TV show, CBS This Morning.  Then Friday, CBS This Morning airs a slick, fully edited piece on Walsh's visit to the school.
Hold on.  This charming little "celebrity in the schoolroom" story lands on a national news broadcast?  What's up with that?
My theory:  CBS, the  Home Of Super Bowl 50, will do almost anything to promote the NFL, and now that the playoffs have begun there's not as much to talk about.
Now CBS can cover any stories it chooses, but given that CBS Sports generates enormous revenue from its telecasts of many of the NFL games, it strikes me as unseemly every time the news division is called in to plug some NFL-related story.  And it happens frequently.
I'm curious, though, about the sequence of events that led up to this broadcast on CBS This Morning.  I'm neither angry nor outraged by it — just interested.
Why were there cameras present in that first grade classroom when the darling children were scrawling out their messages?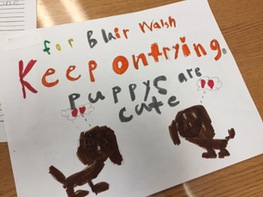 Believe it or not, news teams aren't routinely strolling the corridors of Minnesota public schools in case something newsworthy (or adorable) happens.  My hunch is that someone at Northpoint Elementary or the Spring Lake Park district office is connected somehow to someone at Vikings Headquarters or WCCO-TV and arranged for this event to be covered.  This is not an indictment.
At some point after that Jan 10 Vikings loss, a teacher probably had an idea:  "Wouldn't it be fun if we had the kids write kind messages to Blair Walsh?"  That was likely soon followed by "Maybe the media (or the Vikings) would be interested in this."  And then things snowballed.  I do not allege any sinister conspiracy but merely point out that this story didn't happen by accident.
Even if you can get a news crew out to your school, videographing students and televising them from their classrooms is generally prohibited under data privacy regulations, especially closeups where individual children can be recognized.   Certain procedures are to be followed:  parent notification, releases signed, opportunities for a child to step out during the video shoot, etc.
Given the data privacy regs, I wonder if some or all of the video footage on WCCO-TV was staged — a reenactment of the lesson using a few students whose parents signed releases?  There's no crime in that, but it would make the event seem more like a prepared promotional piece than an actual classroom instructional activity.
Northpoint Elementary is part of the Spring Lake Park, MN school district, and they wasted no time getting this lesson documented on their website.  No harm in that — schools need to get the word out when something interesting happens.  Parents like to see their kids on the web, in the paper, and on TV.  I don't fault Northpoint in the least for tooting their own horn.  It may save us from another story about students beating up on high school staff.
And then OMG Blair Walsh shows up in person at their school.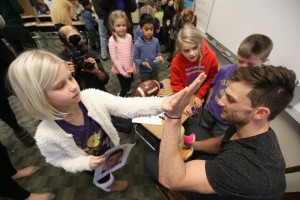 Yep, Blair Walsh made it over to Northpoint, and he spent the whole morning there.  Again, this doesn't just happen.  Now it would be delightful to think that Blair Walsh decided on his own that he'd like to drive over to Northpoint and say hi, and perhaps he did — but I suspect heavy involvement by the public relations team at Vikings Headquarters.
Walsh's visit to the school was announced in advance and covered by several different news agencies, including WCCO-TV, KSTP and Fox 9 TV stations, and Star Tribune newspaper.  Coverage of the event was also featured on dozens of other news outlets.
Walsh came bearing gift swag from the Vikings Headquarters and appeared to be accompanied by Vikings staff members.
It amused me when the TV report mentioned that Walsh delayed his flight home by a day so that he could visit the kids.  If he'd made that field goal kick, his flight out of frosty Minnesota would've been at least a week later — closer to a month later if they had made it to Super Bowl 50 in San Francisco.  But now I'm just being mean.
And now the big time:  We're on National News!
Congrats — Northpoint made it onto the Jan 15, 2016 broadcast of my favorite TV show, CBS This Morning.   It's a delightful piece, and not just a re-airing of the piece show by the local station (WCCO/4).  I'm sure friends and family across the country were thrilled.  A few snarky remarks, though:
There were three "teases" for the segment — those little "coming up later in the show" announcements that whet the appetite of the viewers and presumably keep them hanging on to see a particularly important story.  It's standard for CBS This Morning to give one tease before they cut away to commercials, but three separate times suggests the importance they placed upon this Blair Walsh piece.  I doubt they'd have aired the segment at all if they couldn't use it to promote Super Bowl 50.
CBS This Morning has a pattern of hyping the NFL every Thursday.  Earlier in the fall, their Thursday Night Football episodes were plugged in the morning news.  They also aired on Thursdays segments they called High School Honor Roll, another Super Bowl 50 promo disguised as "feel good" segments about Super Bowl athletes returning to their high schools.  I'll bet they had some other NFL story ready to go for Friday but opted for this Blair Walsh piece instead (it is very cute — especially the question about the guinea pig).
Notice that the school visit piece was followed immediately by a plug for Super Bowl 50 and an upcoming interview with CBS Sports Commentator Jim Nantz.
Do you recognize that reporter who set up the piece for CBS This Morning?  That's former WCCO reporter Jamiey Yuccas.  She transferred to the network some time last summer and shows up now and then on the national reports.  It was fun to see her do this piece, but it also made me wonder if her presence at CBS greased the skids a bit to have this "light and fluffy" piece show up on a national news program.
The name of the school and teachers were not mentioned (although the name of the city appeared on the screen in a tiny graphic).  In fact, the only person identified by name in the CBS piece was Blair Walsh and fifth grader Cody.  I don't know what to think of this, but it seems odd.  "Blair Walsh visited a nameless suburban school where a nameless teacher conducted a lesson in compulsory kindness."  Hmmm…
Now I'm a sucker for feel-good news stories.
But the cynic/curmudgeon lobe of my brain is always filtering messages on WCCO/CBS for often shameless marketing of the NFL.  Lest you forget, CBS is the Home of Super Bowl 50.  I wrote recently about the media hype in advance of this event, concluding that so far it's been pretty mild.  And this little fluff piece about the first graders and the jock is by no means a hard-sell for the NFL.  Still, it's annoying.
Later on Friday, CBS had a different feel-good story during the closing minutes of the CBS Evening News With Scott Pelley.
That's more like it.  And not a single reference to professional football.  Well done, Tiffany Network.
Blair Walsh:  Don't cry for me, little children.
Hey kids:  Blair will be fine.  It's nice of you to extend some compassion to this multimillionaire athlete who has to start his off-season vacation a little early.  Remember that he was responsible for all of the points scored in that game against Seattle.  Consider sending some more letters to a few other Vikings who allowed the Seahawks to score 10 points;  Blair Walsh had nothing to do with that.
Photos on this page are all © Star Tribune.