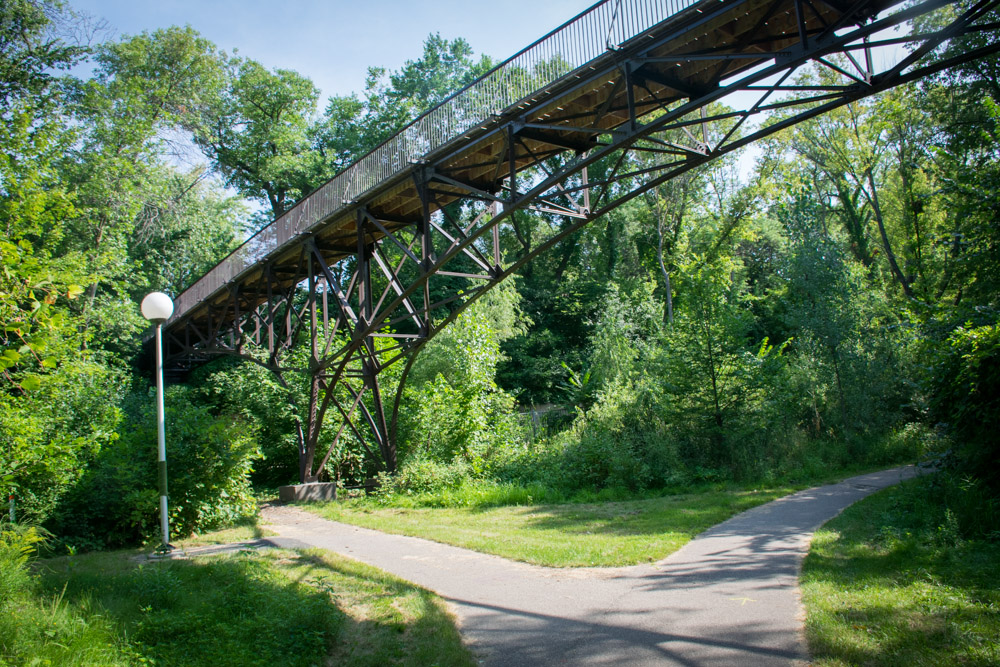 How have I managed to miss this?  Apparently Open Streets has been happening for a few years in Minneapolis — usually in the summer when I may or may not be in town.  Yesterday I happened upon the event by accident because Nicollet Avenue — a main thoroughfare of the Minneapolis grid — was shut down to vehicle traffic when I went to visit the Kingfield Farmer's Market.  At first I thought it was some kind of "walk for a cause" — those happen most every Sunday in Minneapolis, but usually around the lakes and along Minnehaha Parkway, not right down a major commercial road in the heart of the city.
The concept of Open Streets is simple:  take a busy commercial stretch of road in your city and close it off for a few hours to vehicle traffic.  In this case it was a 16-block stretch of Nicollet Avenue between Lake Street and 46th Street South.  Then turn that stretch of closed-to-traffic street into a block party.  Then let local businesses open up to the street during that time, and make space available to other businesses and city agencies that want to reach the public.  Lighten up your open container laws to allow businesses to offer local craft beers, etc.  Throw in some entertainment via local music groups, fitness activities, etc.   Result:  civic pride, people meeting people, and a great excuse to be outdoors on a nice almost-autumn day.
It was wonderful.  Our local CBS affiliate deemed today as a "Top 10 Weather Day" — a bold and risky prediction in a town notorious for fickle weather.  But it was a pretty nice afternoon with light clouds, a mild breeze, and a few light showers.  There are many restaurants and pubs along this stretch of Nicollet Ave and many were serving items from their menus to passersby.  Live bands played and a few other live acts were available.  There were also booths set up for city government information and various service organizations.  Lots of people, kids, bikes, dogs … a festive environment the full length of the event.
This doesn't happen for free, and I don't know exactly who/how this got paid for.   Roads had to be barricaded, traffic control folks hired, portapotties rented … it was a big deal.  Nicollet Avenue also is the home of the venerable #18 bus — one of the busiest 24/7 routes of the entire fleet;  re-routing that bus for an afternoon had to have been challenging.  I imagine it's some mix of public funding from the City of Minneapolis and private support from local businesses.  It's no small task to close down a major municipal street like Nicollet Avenue, even on a "quiet" Sunday afternoon.  Kudoes to all the municipal agencies that pulled this off (and to the volunteers, trash collectors, and everyone else who pitched in).
I understand that Open Streets Minneapolis has taken place on several busy city streets;  Nicollet Avenue isn't the only venue.  The title is  a play on words — while the street is actually closed to vehicle traffic, it's open to the people to come out and play.  And we did.