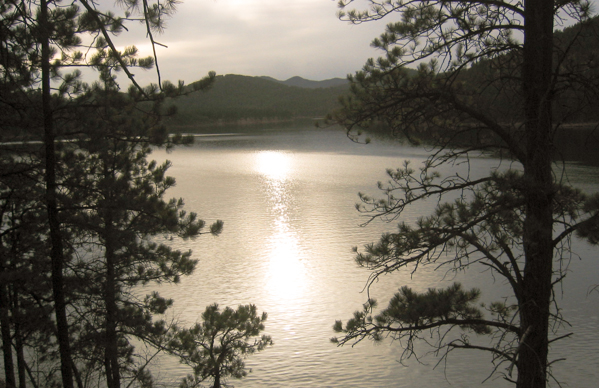 Big story yesterday — a 14 year old gets suspended from school as a result of bringing a home-made clock to school. The boy is Muslim, has dark skin, and his name is Ahmed.   Outrage ensues.
So what if Ahmed's clock turned out to be a bomb?  The teacher would be saluted as a hero and would likely be invited to the White House.  Thank heavens it was only a clock and not anything dangerous, and it's unfortunate that Ahmed was put in this embarrassing situation.  Should the teacher have done something different?  The administration?  The police?  I'd say no, yes, and yes.
When Ahmed showed the teacher his clock, what thoughts went through the teacher's mind?  Option A or B?
Option A:   "Holy crap!  This kid is named Ahmed — certainly he's an Islamic terrorist.  This is clearly an improvised explosive device.  He probably also has dynamite strapped around his waist underneath that NASA t-shirt.  Eeeek.  Should I throw myself on top of his cigar box?  Tell the other children to run for their lives?  Do I call for the SWAT team myself, or does the principal have to do that?  Lockdown, Lockdown!"
Option B:  "Hmmm.  Here's a student with an electronic gizmo that I don't recognize.  It's only the second week of school and I don't really know this guy that well yet — he seems harmless but who knows?  In our pre-school workshop training the superintendent reminded us that nothing is more important than safety and to report anything unusual.  So I think I'll pass this on to the office."
I'll bet the teacher's response was more along the lines of Option B, but the media and social media outrage would suggest Option A.  Absent any incriminating evidence, I'm willing to cut the teacher some slack and assume the teacher has no ill will toward Muslims in general nor to Ahmed in particular.
I was a public school teacher for 37 years.  What would I have done if Ahmed had been my student?
In my first few years in the classroom, I'd have done nothing at all.  That was the late 1970's.  In the fall it was routine for boys to bring their rifles to my northern Minnesota classroom and line them up along the wall so they could grab them at the end of the day to go hunting straight from school (I did ask the kids not to load the weapons until they left school).  No one gave it a second thought.
By the 90's things had changed.  Weapons policies changed and automatic expulsions were indicated for any weapons coming to school.  I had a female student pull a large knife out of her bag in my class one day — not with malicious intent;  she was doing a cooking demonstration for the class.  But she was clearly in violation of the district's no-tolerance, no-questions-asked policy regarding knives in school.  Going by the book I should have alerted the office immediately so they could have called the police and started the official disciplinary procedures.  Instead, I violated policy, allowed the young lady to continue the demonstration, and let it slide.  Afterwards, I reminded the class that knives shouldn't be brought to school and if they needed a knife or some other dangerous item for a demonstration we should work out a way to make that happen safely.
I think if Ahmed presented himself to me today, I'd contact the office (after all, a teacher can't leave the classroom) and have the administration and any police liaison staff address the issue.  Ahmed would probably have to cool his heels in the office for a little while as the clock was investigated — and his parents would be notified.  Once it was clear that no one was in danger, we'd apologize for the inconvenience, congratulate Ahmed on his creativity, and remind him and his parents that it would be better not to bring inventions to school without some pre-arrangement.  If "the book" says to automatically suspend, that's where a principal should have some leeway.
I'd also try to avoid handcuffing a 14 year old and hauling him off if he's being cooperative and isn't carrying any weapons.  That's just plain stupid.