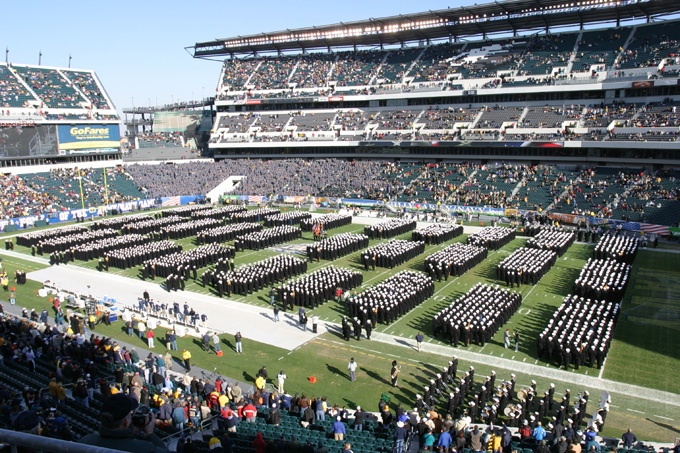 How did I manage to go my whole life without ever watching the Army-Navy game?  Why did no one tell me this would bring me to tears?
---
Game Date:  Saturday, December 12, 2015
Teams:  West Point Black Knights (Army) vs. Naval Academy Midshipmen (Navy) played at Philadelphia
Network:  CBS
My experiment in
becoming a fan of NFL football on TV
has focused on four pro teams, but I decided to catch the Army/Navy game for a change of pace.  My research showed that this  college game is kind of special.  And you know what — it really is.
---
Pregame Thoughts
I didn't really have any expectations about this game — just thought it might be interesting to check out.
My retired-Navy brother-in-law Greg will disapprove, but I was rooting for the Army just because they were the underdogs.
Overall Response
I thoroughly enjoyed watching the broadcast.  This perennial match-up is nicknamed "America's Game, " which is a forgivable bit of marketing hype.  But these men on the field, and their fellow cadets and midshipmen in the stands (men and women alike), can surely claim to be America's teams.  They are honest-to-God officers in training who will soon find themselves in harm's way after they leave their respective academies.  Getting into their academies requires outstanding qualifications — and perhaps the least of which is football prowess.  The academies they represent are steeped in history, and this rivalry seems to have been an important part of that history.  These factors combine to give this game an emotional and historical context that simply cannot be matched by any other college or NFL match-up.  It was inspiring to see all those students in dress uniform in the stands (and also fun to see them displaying typical goofy behavior during the game;  nice to know they're still college kids).
I didn't realize that Navy has been on a such a winning streak, and they kept it going in this game.  Their win in this close game (21-17) made this their 14th victory in a row.
And it wasn't a blow-out by any means.  Army was on top for part of the game and it looked like the Navy's long winning streak might come to an end.  But it was not to be.  For 2016, I say "Go Army.  Beat Navy."  And I'll be watching again, regardless of how I'm feeling next year about professional football.
Some things that stood out:
It started with an invocation.  Kind of took me by surprise.  (Actually, before the Invocation the March On ceremony preceded the game but wasn't included in the telecast).
The National Anthem was sung a cappella by a combined Glee Club from both military academies;  how nice to see all those men and women in uniform singing so beautifully.  And unlike almost everyone everywhere who sings that song, they didn't take a breath after "Oh say does that star spangled" (gasp) "banner still wave."  Singing tip:   that's one thought (and one musical phrase) and really shouldn't be interrupted with a breath.
I'm a sucker for military fly-overs, and each team got one:  the Navy got some F-18 jet fighters in close formation, the Army got some Apache helicopters;  I'd say the Navy trumped the Army with their fly-over, which was perhaps an omen of things to come.
They showed a clip of a military chaplain delivering a speech about the game and the players;  it was very moving.
Seniors from each academy were given a chance to share their thoughts about the game in a video clip.  Again, so inspiring to see and hear them, knowing that they'll be going on to serve our country.
Secretary of Defense Ash Carter attended the game, and I was amused by the tradition that the Secretary sits on one side of the stadium for the first half, and then (fair is fair) moves to the other side for the second half.  Historic video footage shows several Presidents have attended this game, and I wonder if that same tradition applies to the Commander in Chief?
The finale–a real musical theater moment when each team gets to sing their Alma Mater in front of their Academy students in the stands (the losing team sings first, the winners stand courteously behind them–then the winners go berserk and run to the other side for their own Alma Mater).  The Midshipmen got a little ahead of the conductor when it was their turn, but I'll overlook it.
Entertainment value
4/5.  Loved everything happening off the field.  Pregame, halftime, postgame stuff was wonderful.  The game itself was fine — even to a novice like me, it's apparent that college ball isn't the same skill level as the NFL, and that actually makes it more interesting to me.
Commercial commentary
In each of my NFL game reports I've included some remarks about the commercials that were shown during the game.  I find that end of the story very compelling — which sponsors choose to advertise during these games?  What audience are they trying to reach?  At the bottom of this and every game report you'll find a complete list of all the commercials that aired between the opening credits of the game and when the final whistle (there are always a handful of commercials after that during postgame remarks, but I don't count them as I figure most of the audience is gone).
Total number of commercials:  121, Testosterone Factor 4.7/7.0.  Those are both pretty high.
Not surprisingly, many ads for the armed forces and military-related services.
More ads for the Navy than for the Army — perhaps that's helping them maintain their long winning streak?
Only four ads for movies.  That's pretty low compared to an NFL broadcast.
Interesting Extras
Navy QB Keenan Reynolds tied a touchdown record — they had a little report about how they insert a chip in the ball (although they made a good and labeled it 86 — it was really 84, and they corrected that a few moments later).  Had a little spot about Chris Ring – swam Mississippi for some military family cause – there was a little ceremony about this during halftime.  A classy act by CBS Sports — they recognized crew members who are also military vets;  what a nice touch. I've noticed that all NFL team uniforms appear to be made by Nike;  Army wears Nike uniforms, Navy wears UnderArmour.
Attention, Mr. Secretary of the Army — perhaps a new uniform will break the streak in 2016?
Here's the commercial roster for the show.  I've sorted this one by category, but  you can also see which quarter the ads were telecast and in what order.  Remember, asterisks (*) mark commercials with a football theme (especially when the product advertised is NOT explicitly football-related).
---
| | | | | |
| --- | --- | --- | --- | --- |
| Quarter | Commercials:  Army vs Navy, Dec 12 2015, CBS | Category | Ad Number | Testosterone Factor (avg 4.7/7.0) |
| 4 | Autotrader | Auto | 112 | 4 |
| HT | BMW | Auto | 77 | 4 |
| 1 | Chevrolet | Auto | 27 | 4 |
| 2 | Chrysler (Star Wars) | Auto | 34 | 5 |
| HT | Dodge (Star Wars) | Auto | 60 | 7 |
| HT | Dodge (Star Wars) | Auto | 74 | |
| 1 | Dodge Charger | Auto | 11 | 7 |
| 2 | Dodge RAM | Auto | 56 | 7 |
| 3 | Dodge RAM | Auto | 97 | 6 |
| HT | Goodyear | Auto | 73 | 6 |
| 3 | Honda | Auto | 104 | 4 |
| HT | Jeep (Star Wars) | Auto | 67 | 4 |
| 2 | Mazda | Auto | 36 | 4 |
| 3 | Mazda | Auto | 107 | 4 |
| 1 | Nissan | Auto | 2 | 7 |
| 3 | Nissan | Auto | 88 | 6 |
| 4 | Nissan | Auto | 117 | 7 |
| 4 | Ram Trucks | Auto | 113 | 7 |
| 1 | Toyota | Auto | 26 | 4 |
| 4 | NAPA Oil | Auto parts | 114 | 7 |
| 1 | Budweiser | Beer | 9 | 4 |
| 3 | Michelob Ultra | Beer | 90 | 4 |
| 4 | Stella Artois | Beer | 111 | 4 |
| 1 | Reese's | Candy | 20 | 4 |
| HT | Reese's | Candy | 69 | 5 |
| 2 | LG | Cellphone | 46 | 4 |
| 3 | Rice Krispies | Cereal | 85 | 2 |
| HT | Garmin | Computer | 72 | |
| HT | Microsoft Surface Pro | Computer | 76 | 4 |
| HT | Just For Men | Cosmetics | 70 | 7 |
| 1 | NK Seeds | Farming | 29 | 5 |
| 1 | GMC | Financial | 14 | 7 |
| 1 | Navy Federal Credit Union | Financial | 21 | 1 |
| HT | Navy Federal Credit Union | Financial | 81 | 1 |
| 1 | New Day USA | Financial | 13 | 5 |
| 2 | New Day USA | Financial | 38 | 4 |
| 1 | USAA | Financial | 5 | 5 |
| 1 | USAA | Financial | 18 | 4 |
| 2 | USAA | Financial | 37 | 4 |
| 2 | USAA | Financial | 42 | 4 |
| 3 | USAA | Financial | 84 | 4 |
| 4 | USAA | Financial | 116 | 4 |
| 3 | NFL Network:  TNF | Football | 91 | 7 |
| 2 | Play60 | Football | 47 | 4 |
| 2 | Sunday Football | Football | 54 | 7 |
| 2 | Advocare | Health & Fitness | 55 | 3 |
| HT | Home Depot | Home Improvement | 61 | 5 |
| 3 | Home Depot | Home Improvement | 92 | 5 |
| HT | AFLAC | Insurance | 78 | 4 |
| 3 | AFLAC | Insurance | 96 | 2 |
| 4 | AFLAC | Insurance | 120 | 4 |
| 2 | Geico | Insurance | 45 | 5 |
| HT | Geico | Insurance | 65 | 5 |
| 4 | Geico | Insurance | 109 | 5 |
| 1 | New York Life | Insurance | 1 | 4 |
| 2 | New York Life | Insurance | 51 | 3 |
| HT | New York Life | Insurance | 71 | 4 |
| 4 | New York Life | Insurance | 110 | 3 |
| 1 | USAA | Insurance | 6 | 4 |
| 3 | USAA | Insurance | 100 | 4 |
| 4 | USAA | Insurance | 121 | 4 |
| HT | Jared Jewelry | Jewelry | 63 | 2 |
| 1 | Jewelry Exchange | Jewelry | 25 | 3 |
| 1 | Jewelry Exchange | Jewelry | 28 | 3 |
| 1 | Kay Jewelers | Jewelry | 3 | 2 |
| 2 | Kay Jewelers | Jewelry | 49 | 1 |
| 3 | Kay Jewelers | Jewelry | 93 | 3 |
| 1 | Army | Military | 10 | 6 |
| 4 | Army | Military | 108 | 5 |
| 3 | GMC enlistment | Military | 86 | 6 |
| 1 | Navy | Military | 7 | 5 |
| 2 | Navy | Military | 41 | 5 |
| 3 | Navy | Military | 89 | 6 |
| 4 | Navy | Military | 115 | 6 |
| HT | US Naval Academy | Military | 82 | 4 |
| HT | US Military Academy | Military | 75 | 4 |
| 2 | Harley Davidson | Motorcycle | 39 | 7 |
| 3 | Harley Davidson | Motorcycle | 83 | 7 |
| 3 | In The Heart Of The Sea | Movie | 101 | 7 |
| 2 | Minions | Movie | 43 | 4 |
| 1 | Ted 2 | Movie | 19 | 5 |
| 2 | The Finest Hours | Movie | 30 | 6 |
| 3 | Arby's | Restaurants | 106 | 4 |
| 2 | Chick Fil-A | Restaurants | 31 | 4 |
| 4 | Chick-Fil-A | Restaurants | 118 | 5 |
| 2 | Jimmy Johns | Restaurants | 35 | 5 |
| HT | Jimmy Johns | Restaurants | 66 | 5 |
| 1 | Outback | Restaurants | 16 | 5 |
| 2 | Outback | Restaurants | 52 | 5 |
| HT | Outback | Restaurants | 79 | 5 |
| 3 | Outback | Restaurants | 102 | 4 |
| 2 | Sonic | Restaurants | 48 | 5 |
| HT | Sonic | Restaurants | 62 | 7 |
| 3 | Sonic | Restaurants | 95 | 7 |
| 1 | Taco Bell | Restaurants | 4 | 5 |
| 1 | Taco Bell | Restaurants | 22 | 5 |
| 2 | Direct TV | Satellite TV | 53 | 6 |
| HT | Direct TV | Satellite TV | 64 | 6 |
| 3 | Dr. Pepper* | Soft Drink | 99 | 5 |
| 1 | Road to the Final Four | Sports | 8 | 7 |
| 1 | Angel From Hell | TV Show | 24 | 2 |
| 2 | Big Bang Theory | TV Show | 33 | 4 |
| 4 | Big Bang Theory | TV Show | 119 | 5 |
| 3 | Late Show | TV Show | 98 | 4 |
| 2 | Limitless | TV Show | 40 | 5 |
| 3 | Madam Secretary | TV Show | 103 | 3 |
| 2 | NCIS | TV Show | 50 | 5 |
| 2 | NCIS:  Los Angeles | TV Show | 32 | 4 |
| HT | NCIS:  New Orleans | TV Show | 58 | |
| 1 | Scorpion | TV Show | 12 | 4 |
| 2 | Survivor | TV Show | 57 | 7 |
| 3 | AT&T | Wireless | 94 | 4 |
| HT | AT&T Get Strong | Wireless | 68 | |
| 1 | AT&T* | Wireless | 15 | 6 |
| 1 | T Mobile | Wireless | 23 | 4 |
| HT | T Mobile | Wireless | 80 | 4 |
| 1 | Verizon | Wireless | 17 | 4 |
| 2 | Verizon | Wireless | 44 | 4 |
| 3 | Verizon | Wireless | 87 | 4 |
| HT | X1 Infinity | Wireless | 59 | 7 |
| 3 | X1 Infinity | Wireless | 105 | 7 |